Your eyebrows are one of the most striking features of your face. They give every expression personality, convey complex subtleties, and imply drama or mystique. As we age, the muscle under our face becomes stiff and overexerted from years of, hopefully, happy expressions. While we want to hold on to those memories, sagging brows are something many of us would like to forget.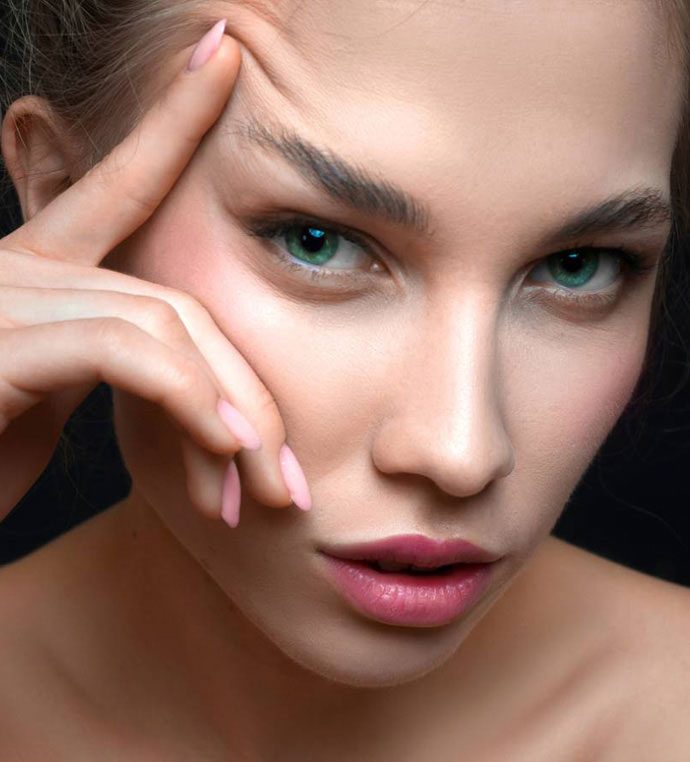 Aging eyebrows can make us look unnecessarily:
Tired or fatigued
Older than we really are
Upset or stern
Unenthusiastic or apathetic
While makeup or tattoos are common remedies for thin eyebrows, where are those concerned with sagging brows expected to turn? Dr. McCracken is proud to offer an answer; and one that avoids surgery.
A non-surgical brow lift rejuvenates the skin and muscle behind your brows, unlocking the full mobility and elevation you had when you were younger. Patients who wish to avoid invasive surgery and lengthy recovery times while still receiving dramatic results are encouraged to pursue this one-of-a-kind procedure.
How Does a Non-Surgical Brow Lift Work?
The primary method used for a non-surgical brow lift is the implementation of Botulinum Toxin. Botulinum Toxin injections are often used to treat fine lines around the mouth, jaw, and forehead. However, this is also one of the best techniques to most easily remedy aging eyebrows.
Botulinum Toxin relaxes underlying muscles to release tension between youreyebrows and smooth the skin. This will allow the muscles in your forehead to lift the relaxed muscles, gifting patients with a bright-eyed and youthful makeover almost instantly.

I am very grateful to Dr. McCraken
After several consultations with local plastic surgeons, I finally got my answers…
---
-B.M
How is This Different from Brow Lift Surgery?
Traditionally, a brow lift is performed under general anesthesia and uses a fiber optic endoscope to reposition tissue and muscle in the forehead. Though this procedure uses a minimal incision technique, it still constitutes invasive surgery, with small incisions behind the hairline. A brow lift surgery is often combined with eyelid surgery to remove under-eye bags and give patients a more comprehensive facial reinvigoration.
A non-surgical brow lift with Botulinum Toxin smooths over frown lines and deep wrinkles without the need for surgery. Using only safe and advanced injections, a non-surgical brow lift requires no anesthesia and allows patients to return to their everyday activities immediately.
Benefits of Non-Surgical Brow Lift Over Traditional Brow Lift
No incisions or surgical components
Results typically show within the same week of treatment
Little to no recovery time
Can be combined with other cosmetic eye procedures
What Should I Expect from My Non-Surgical Brow Lift Treatment?
The good news about this process is it is incredibly easy. Before your treatment, Dr. McCracken may advise that you discontinue blood-thinning medications, such as aspirin. These medications cause you to bleed easily. Dr. McCracken is committed to providing patients with both a safe and comfortable experience. His pre-treatment instructions are as thorough as possible to ensure you receive optimal results without any complications.
A gentle anesthetic cream may be applied before your injection to reduce discomfort. Pain during a non-surgical brow lift is rare. You'll be in and out of our office in minutes.
Will I Need Multiple Sessions?
Most Botulinum Toxin injections will last 3-5 months, with some patients enjoying results for up to a full year. To maintain ideal results, you will need to come back for additional injections. Dr. McCracken will advise you on the best strategy for your follow-up appointments. Often, you will be the first one aware of wrinkles and droopiness returning at home.
Additional injections can also be performed in different sites around the eyes. For example, when placed at the end of the eyebrows, Botulinum Toxin allows you greater mobility and elevation on the outer edges of your lower forehead. Ultimately, it is up to you and Dr. McCracken to decide how many injections will work best for your face.
Patients often enjoy the freedom of leaving our office and going about their day without being subject to rigorous recovery standards. Repeated sessions are a small price to pay for arguably the most convenient cosmetic facial treatment currently available.
Are There any Side Effects I Need to Know About?
Botulinum Toxin is generally very safe, with most patients experiencing no notable side effects. However, you may encounter these mild side effects:
Redness
Minor swelling or bruising
Numbness
Symptoms should alleviate within one week. If you experience severe side effects, reach out to Dr. McCracken immediately.
Additional Methods of Achieving a Non-Surgical Brow Lift
Dysport
If you desire a more targeted approach to your non-surgical brow lift, Dysport can work miracles. Focusing on the small area between your eyebrows, Dysport gives patients natural-looking results without sacrificing subtle facial expressions.
Juvederm
For sagging skin around the eyebrows, Juvedermuses a modified form of hyaluronic acid to deliver volume and confidence to those looking for non-surgical rejuvenation. Hyaluronic acid is a naturally occurring protein in our body that functions as a moisture retention agent. It keeps our skin tissue hydrated, firm, and glowing. Juvederm has been known to last longer than other fillers as well.
Restylane
This is another hyaluronic acid filler perfect for treating moderate to severe facial wrinkling. Frown lines, volume loss, and deep wrinkles are smoothed away, leaving patients with a face 10 years younger.

Non-Surgical Brow Lift in Denver
While a non-surgical brow lift is not a permanent fix for treating frown lines or wrinkles, it does elevate the height of the eyebrows while returning confidence and a playful energy to patients seeking an easy, no-hassle facial makeover. To schedule a consultation with Dr. McCracken and discuss which option will erase your signs of aging best, contact his Denver offices today.