Introducing a New Way to Reverse Aging
When we are young, our skin is resilient and seemingly unphased by factors like sun exposure or weight changes. But as time passes, many of us realize we took youthful skin for granted. Fortunately, modern cosmetic technology has allowed for non-surgical laser skin tightening treatments to quietly turn back the clock. No need for the commitment or risk of a major cosmetic surgery. At McCracken Eye and Face Institute, we provide several skin tightening options.
What Is Non-Surgical Skin Tightening?
Non-surgical skin tightening procedures utilize minimally invasive radio-frequency energy. This energy simultaneously melts fat by targeting key areas and pulls the skin into a taught and youthful contour. There is no scarring, no downtime, and patients go home the day of the treatment.
Laser skin tightening provides a completely non-invasive means of improving your skin tone and texture. Using nothing but heat and energy, your skin will appear healthier and younger after each treatment.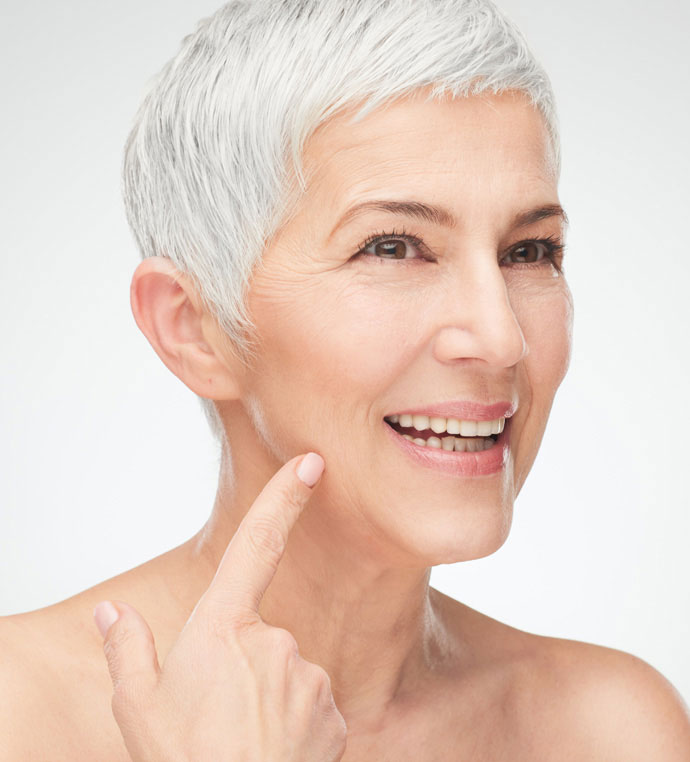 What Exactly Does Non-Surgical Skin Tightening Treat?
Often, patients will avoid traditional plastic surgery due to cost, risk, and recovery time. Many simply do not want to get more involved than they have to with major surgery. What you may not know is that beautiful results can be achieved without any surgery at all.
Non-surgical skin tightening with Forever Young BBL, FaceTite, and AccuTite address the following concerns:
Jowls
Fine wrinkles
Nasolabial folds

I am very grateful to Dr. McCraken
After several consultations with local plastic surgeons, I finally got my answers…
---
-B.M
Laser Skin Tightening with Forever Young BBL
The Forever Young BBL laser has proven to even change the expression of genes associated with aging. Using light therapy, it smooths and tightens your skin to deliver a younger look and feel.
The advantages of Forever Young BBL include:
No downtime: You can get back to your life immediately.
Long-term results: continue to see improvements months after treatment.
Fast and convenient: achieve younger skin in less than half an hour.
Works with all body areas: arms, hands, face, neck, and chest can be improved.
Skin Tightening with InMode Technology
Using new InMode technology, we are proud to offer a clinically-tested skin treatment that delivers dramatic and consistent results.
Radio-frequency energy heats layers beneath the skin to encourage new collagen production. As your cells regenerate, the collagen becomes stronger and thicker. You can look forward to walking out of our office with a youthful glow.
We provide AccuTite for precision areas around the body. And FaceTite is for treating facial areas.
Which Skin Tightening Is Best for Me?
The skin tightening treatment that is best for you depends on your goals and unique needs. During your consultation, Dr. McCracken works with you to develop a personalized treatment plan.
Benefits of Skin Tightening
If you care about glowing skin, collagen and elastin are two words to keep in mind. These two proteins are produced naturally in our body and help our skin stay firm, smooth, and resilient. As we age, the production of these proteins slows down.
Non-surgical skin tightening offers patients an opportunity to restore skin to its former glory with very minimal downtime.
Enjoy the following benefits of laser skin tightening with Dr. McCracken:
Restores tightness to mildly loose skin on the face, jawline.
Treatments are performed in-office (often less than 30 minutes)
Little to no downtime
Results are immediate and continue to improve over time
Am I a Candidate for Non-surgical Skin Tightening?
Non-surgical skin tightening is best for:
Patients who wish to see improved skin laxity and firmness in select, targeted areas.
Those with a manageable amount of facial fat or extra skin
For those with more significant sagging or excess skin, we may recommend surgery.
The best candidates are those who maintain realistic expectations and clear communication with Dr. McCracken. If you wish to treat early signs of aging without invasive surgery, laser skin tightening is a great option for you.
Is Skin Tightening Safe?
Yes! This exciting treatment has gone through extensive clinical studies and uses safe amount of energy to deliver results. We implement multiple safeguards to ensure you look beautiful and stay comfortable doing it.
Why Should I Choose Non-Surgical Face Tightening Over a Traditional Facelift?
Laser skin tightening avoids invasive incisions involved with a traditional facelift. What this means for you is reduced:
Scarring
Swelling
Discomfort
For those who may be on the fence about undergoing a facelift, non-surgical skin tightening is often the perfect choice.
You may want to opt for a traditional facelift if you desire a more dramatic aesthetic change. Surgery is suitable for those who wish to remove a significant amount of loose or sagging skin.
What Can I Expect for After-Care and Results?
The beauty of non-surgical skin tightening and one of its most popular features is its ease of recovery. Patients may go home directly after the procedure.
You may experience minor discomfort and some facial swelling around your treatment site for the week following your procedure. However, this quickly fades. As the weeks pass, you will see daily improvements in your skin.

Schedule Your Consultation
If you are ready to take back control over your skin, schedule your consultation today. Dr. McCracken will work closely with you to design the optimal treatment plan according to your needs. Call us today to learn more about laser skin tightening and Forever Young BBL.