Home . Cosmetic Surgery .
FaceTite: Minimally Invasive Facial Contouring
Are you ready for safe, gentle, and effective minimally-invasive procedures for the face and neck? How about a treatment with all the power of surgical results with dramatically less downtime? Dr. McCracken is proud to provide Denver with the most advanced facial contouring and refinement procedure in just one treatment. FaceTite is a revolutionary means of providing facial rejuvenation without a lengthy recovery or downtime.

One Procedure. Significant, Long-Lasting Results.
FaceTite is a new procedure that is comparable to a surgical facelift, without the large scars. FaceTite provides a dramatic improvement in skin laxity on the face and neck. Previously such results could only be obtained through a surgical procedure like a facelift. A facelift can deliver stunning results, but it is a huge commitment. And it carries the risk that you will need revision surgery. If you do choose a traditional facelift, be sure to have a board-certified surgeon perform it.
FaceTite utilizes minimally invasive radio-frequency energy to melt fat and tighten skin. Through precision targeting, it leaves your face looking years younger.
What Kind of After Care Is Necessary?
FaceTite is a minimally invasive procedure performed under local anesthesia or light sedation. Without general anesthesia, your body is put under significantly less stress. That means you not only can recover more quickly, but will return to your normal routine as well.
After the procedure, patients can go home and resume regular activities shortly after. Wearing a compression garment is helpful for achieving the best results. Still, we advise giving yourself time to rest. Your body will appreciate it. And the better your heal, the better your results ill be.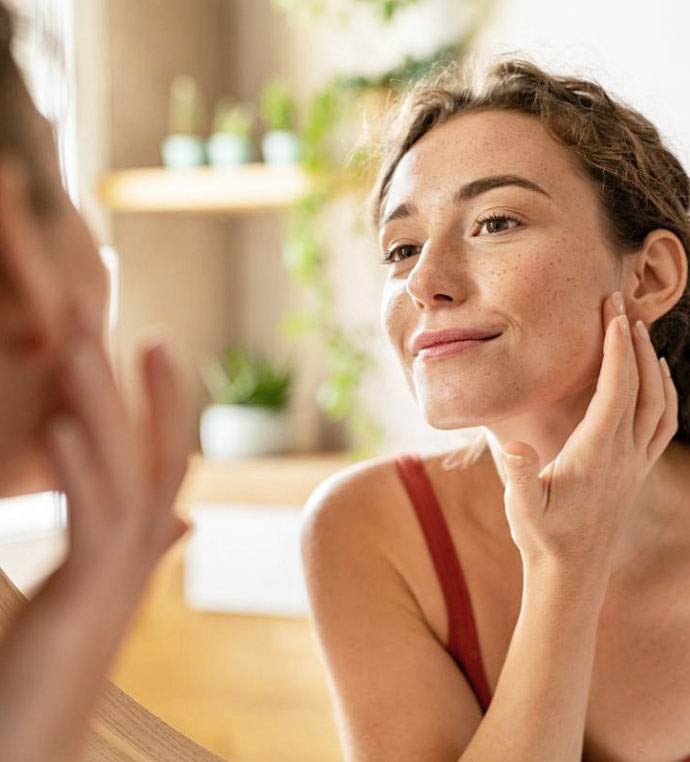 What Areas of My Face Can Be Treated?
Any areas on the face and neck with saggy skin can be treated. This includes:
Double chin
Jowls
Other areas with deep lines and loose skin
Each area can be improved through this nonsurgical rejuvenation technique. During your consultation, you will have a chance to discuss your aesthetic goals with Dr. McCracken. He will develop a plan that matches your needs and goals perfectly.

I am very grateful to Dr. McCraken
After several consultations with local plastic surgeons, I finally got my answers…
---
-B.M
Is FaceTite Right for Me?
Countless patients could potentially benefit from this amazing treatment. Below are some signs that the time for your FaceTite procedure is now.
Earlier signs of aging: FaceTite works best before wrinkles or furrows have become too deep.
No knives, please: This option is perfect for patients who want to avoid incisions or scarring.
On the go: FaceTite is excellent for patients who do not want a significant interruption to their daily lives.
Rejuvenate, repeat: FaceTite provides long-lasting results. However, many patients want to repeat the treatment as the benefits fade over time. Each time you can better customize the process to your needs.
All about elasticity: Patients with a good degree of elasticity in their skin will benefit the most from this procedure.
During your consultation, Dr. McCracken will help you decide if this if the procedure for you.
How Is FaceTite Better Than a Facelift
Ultimately, what is best for you depends on your needs and goals. For some patients, a facelift may help them achieve their aesthetic goals. However, the FaceTite procedure has several significant benefits over a traditional facelift.
By avoiding a facelift procedure with large incisions, patients will benefit from reduced swelling and discomfort. You will not need to dedicate as much time to recovery as a facelift.
Overall, this is a less traumatic process and less invasive. As a result, you will see a natural-looking final look.
How Soon Can I See Results?
Results can be seen immediately! As soon as you leave our office, you will look rejuvenated and younger. However, it can take some time before you see your complete results. As you heal over the coming weeks, your appearance will continue to improve each day.
Most patients report seeing optimal results after six weeks. Though FDA-approved for results lasting up to 12 months, most patients report having significantly longer benefits.
Safe and Effective
FaceTite is approved by the FDA as a facial rejuvenation treatment. However, it is still vital that you see an expert for the procedure. When you visit an experienced surgeon like Dr. McCracken, you will have a safe experience while achieving optimal results.
Every step of the way, our goal is patient comfort. We will keep you fully informed about the procedure and what you can expect from it.

Schedule a Consultation Today
Take the first step toward a rejuvenated appearance today. Schedule a consultation for a personal meeting with Dr. McCracken. By listening to your goals, he will put together a personalized treatment plant hat perfectly matches your needs. Your appearance is unique, and Dr. McCracken believes every FaceTite procedure should be as well. For the best FaceTite Denver has to offer, call us today.