Home . Cosmetic Surgery . Endoscopic Brow Lift
Brow Lift
Over time, many tissues of the body begin to show the effects of aging and gravity. Some of the earliest signs of aging can be noticed in the forehead area, where people can develop wrinkles and creases, frown and worry lines between the eyes, and sagging of the eyebrows, causing "hooded" eyes that make you look tired or angry. 

Some patients try to compensate for hooded eyes by using their forehead muscle to lift the eyebrows, further exacerbating forehead creasing and wrinkling. Dr. Michael McCracken is specially trained in a number of techniques to lift the eyebrows, including the endoscopic brow lift.
The endoscopic brow lift is a technologically advanced, minimal incision technique to help combat the signs of aging in the forehead.
About the endoscopic brow lift procedure
The endoscopic brow lift procedure in our Denver, Colorado locations takes about an hour and can be done without general anesthesia on an outpatient basis. Using a fiber optic endoscope, which is a surgical video device, Dr. McCracken makes small incisions behind the hairline to elevate the eyebrow to a natural, youthful position, while weakening the muscles that help create forehead lines and creases. During the procedure, the tissues and muscles will be repositioned or removed in order to noticeably decrease the appearance of forehead wrinkles and "hooding" of the brows.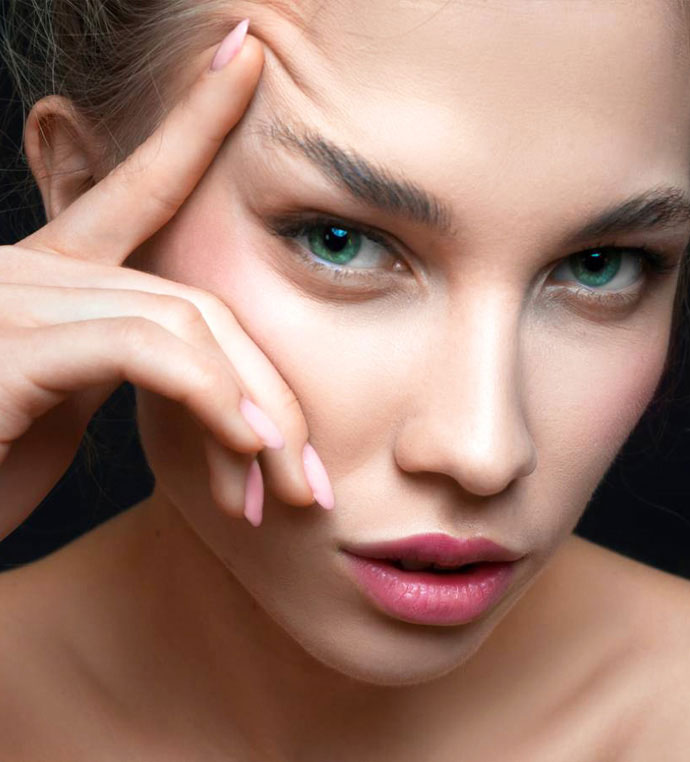 An endoscopic brow lift can help…
Endoscopic brow lift surgery can help minimize the appearance of wrinkles and creases in the brow and forehead region, giving you a younger, fresher appearance. Endoscopic brow lift surgery can also:
Reposition sagging eyebrows to correct hooding of the eyes
Improve the appearance of frown and worry lines between the eyes
Soften creases above the bridge of the nose
Raise eyebrows to a more youthful, rested looking position
Brow lifts are often combined with upper eyelid surgery or lower eyelid surgery to remove bagginess.
Endoscopic Brow Lift Recovery
Prior to your surgery, Dr. McCracken and his team will give you detailed instructions about aftercare following your endoscopic brow lift surgery. Instructions will include how to care for the surgical site and incisions, pain medications that may be used to handle discomfort, and when you may resume normal activity.
Postoperative discomfort is generally minimal following endoscopic forehead lift surgery, and patients can expect to return to normal activities within a week. Staples are removed at a postoperative visit, usually about a week after the procedure, and most patients can resume wearing makeup and contacts at that time.
Testimonial – Brow Lift, Upper and Lower Blepharoplasty, and CO2 Laser Skin Resurfacing
Brow Lift
Before and After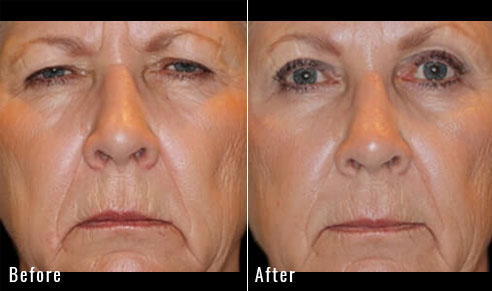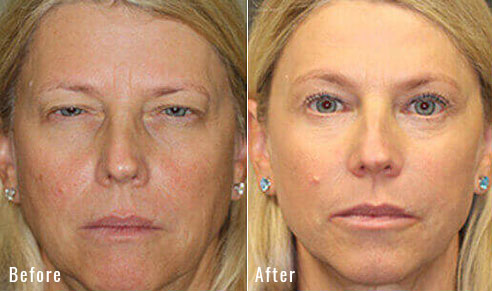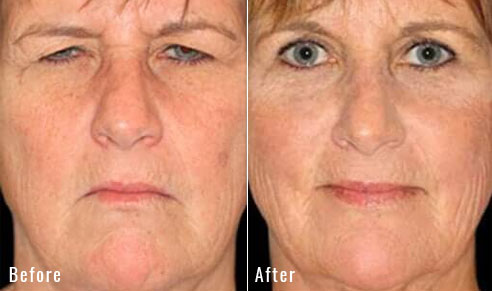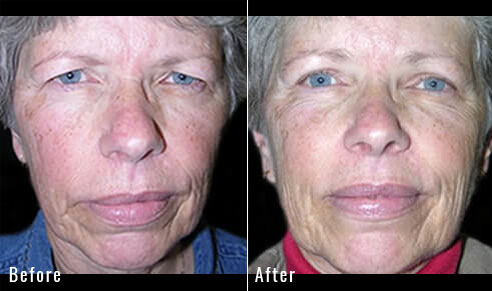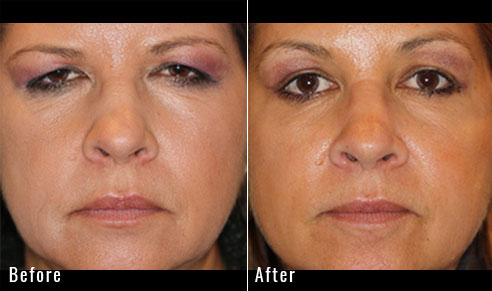 Extremely Skilled and Personable
His lower eyelid repair after skin cancer provided remarkable results…
---
– Tammy
How can I learn more about forehead lift surgery?
Dr. McCracken will meet with you to assess your individual situation and discuss forehead lift surgery. Request an appointment online or call the McCracken Eye and Face Institute's office today to schedule an appointment for a consultation with Dr. Michael McCracken. During your consultation you can learn about the many facial rejuvenation procedures available, including blepharoplasty, mid-facelift, Botulinum Toxin injections and more.
Endoscopic Brow Lift Surgery FAQs
WHAT KIND OF ANESTHESIA IS USED FOR BROW LIFT?
Dr. McCracken prefers to perform brow lift surgery in a controlled setting in a surgery center. This allows an anesthesiologist to administer medication intravenously to keep you comfortable. General anesthesia is almost never necessary. On rare occasions and in select patients, brow lift surgery may be performed in the office with only local anesthetic injection.
WHERE ARE THE INCISIONS MADE FOR A BROW LIFT?
Dr. McCracken uses a number of different approaches to perform brow lifts. During your initial consultation, he will discuss your anatomy and expectations with you and agree on an approach with you. Incisions are commonly placed behind the hairline.
WHAT IS THE RECOVERY PERIOD LIKE?
Patients need to be prepared for one to two weeks of bruising and swelling. Using ice packs for the first few days can help decrease the amount of bruising and swelling. Dr. McCracken will prescribe antibiotic ointment for you to place in your eyes and on your incisions for the first week. Patients are asked to refrain from heavy lifting, exercise, and getting the incisions wet for the first week.
Some insurance providers will sometimes cover a brow lift if a number of strict criteria are met. In these cases, the brows must be hanging down into the patient's vision enough to be causing significant visual compromise. This visual compromise must be demonstrated by both photography and visual field testing.