Home . Cosmetic Surgery .
Dark Circle Under Eyes Treatment
Almost everyone has encountered dark circles at some point in their life. Even younger individuals can wake up to dark circles under their eyes. Though there is rarely a negative health aspect tied to under-eye circles, they can still have a significant impact on your life. We associate them with not having rest or being tired. However, you might still feel entirely alive inside despite your appearance. When this happens, it can hurt your self-confidence.

At the McCracken Eye and Face Institute, we believe there is a way to age gracefully. We believe that your outer appearance can and should reflect your inner self. That is why we offer a range of treatments to help patients with dark circles, rejuvenating their appearance to a more youthful one.
How to Get Rid of Dark Circle Under Eyes?
As we age, a number of changes occur in our face and around our eyes. Much of the underlying tissue can weaken, which then leaves a hollowed-out or tired look. That is what dark circles treatment is about. Dr. McCracken aims to reverse this effect and restore your eye area to a youthful expression.
This treatment can benefit a range of patients. Even if you have only started to notice under-eye circles, it can help prevent them from becoming more severe. Even as young as 30 years old, the under-eye fat and tissue begin to thin out. As each year passes, this change becomes even more noticeable. But it doesn't have to. Take charge of your appearance today.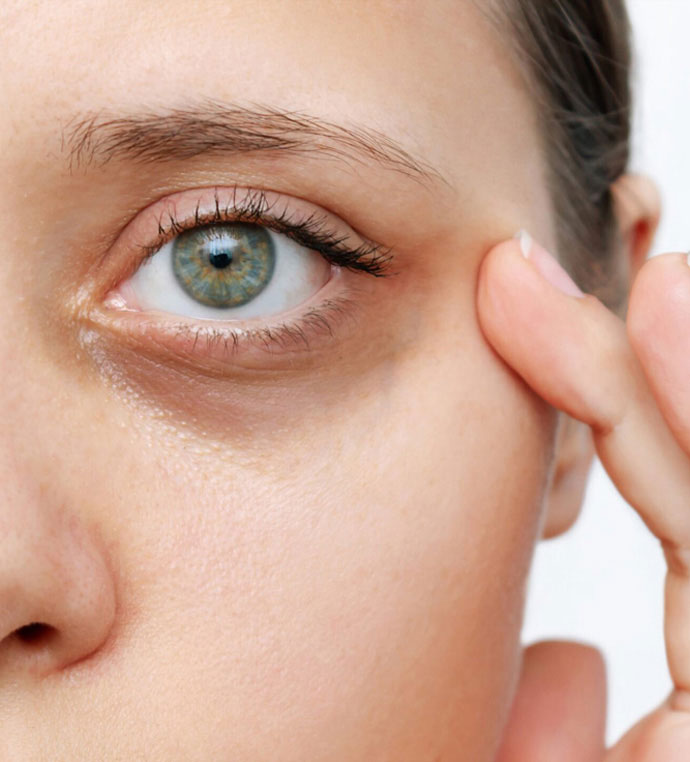 What is Dark Circles Treatment About?
We disagree that dark circles are only a cosmetic concern. Yes, they do not immediately impact your physical health, but they still affect your quality of life. Though they do not cause physical discomfort, they can still lead to significant drops in self-esteem and satisfaction in how you look.
When your outer looks contrast with how you feel inside, there is a conflict. When you see a tired-looking face in the mirror, you might start to believe that you really are tired all the time. That if you look fatigued, it must be true. Don't let this happen to you! Dark circles treatment helps keep you looking and feeling as alive as ever.
How to Treat Dark Circles
There are several ways to treat dark circles. Your individual treatment will depend on your goals and the severity of your under-eye circles. During your consultation, Dr. McCracken will work with you to develop a personalized treatment plan.
Also called injectable fillers, this non-surgical treatment is convenient, comfortable, and effective. In only a few minutes, you can see significant improvement without the need for a single incision. When performed by an expert, dermal fillers are a safe and natural way to rejuvenate your under-eye area.
Under eye dermal fillers are an in-office treatment that is quick but delivers stunning results. This solution is a great choice for patients whose dark circles are caused by loss of tissue or fat under your eyes. There is virtually no downtime, and you can return to your normal routine almost immediately.
However, this treatment is temporary. For some, this is a benefit as it does not require a long-term commitment. But, it also means you will need to have touchups at some point in the future.
How Long Do Fillers Last?
Under Eye fillers will begin to fade over time, and dark circles can make an appearance once more. We advise coming in regularly for checkups to keep your rejuvenation fresh and vibrant. Depending on your lifestyle, your fillers should last anywhere from a few months to over a year. If you are more active, the fillers will dissolve quicker, usually around 3-6 months. However, a mildly active lifestyle will still keep your results for up to a year or more.
However, receiving touchups can be a confidence-boosting time. With each visit to Dr. McCracken, you can walk away feeling refreshed and lively once more. Also, you can make adjustments to each treatment to better match your aesthetic goals.

I am very grateful to Dr. McCraken
After several consultations with local plastic surgeons, I finally got my answers…
---
-B.M
Another way to rejuvenate the under-eye area is through laser treatment. Laser skin resurfacing uses energy and heat to revitalize your skin. Since it is also non-surgical, the treatment is quick and requires almost no downtime. However, the results are quite transformative.
Not only does laser skin resurfacing reduce wrinkles, but it also tightens the skin under your eyes. Depending on your goals and the intensity of your dark circles, it may take a couple of sessions to reach final results. However, with each visit, you will see noticeable improvements.
How Long Does Laser Treatment Last?
One of the benefits of laser treatment is that you will continue to see improvements as the months go by. With each session, your skin will continue to improve. However, the results are not permanent. But there are some ways to maximize the length and visibility of your results.
We recommend taking good care of yourself. By getting enough sleep and staying hydrated, you will see longer-lasting results. Also, avoid smoking, as it can significantly contribute to aging. However, you can always have additional sessions.
Also called blepharoplasty, eyelid surgery provides the longest-lasting results. However, it requires commitment and being prepared for a recovery period. The results are extremely powerful though and will be seen for years to come. By tightening the underlying tissues, Dr. McCracken delivers a significant facial rejuvenation.
How Long Does Surgery Last?
If you heal properly and take care of yourself, the results will last for years. Surgery permanently alters the tissues around your eyes, so you can see dramatic improvement for a long time. To ensure the best results, be sure to follow all your post-op instructions during recovery.
Is Dark Circle Treatment Right for Me?
Almost all patients will qualify for dermal fillers or laser treatment. However, if there are more significant under-eye circles, you may need to choose surgery to achieve your goals. For surgery, we advise that patients be in good health, as proper healing depends on it to reach your desired results.
Schedule a Consultation Today
If dark circles have left a negative impact on your life and self-confidence, take the first step toward rejuvenation today. Schedule a consultation at the McCracken Eye and Face Institute. You will meet one-on-one with an experienced cosmetic surgeon who has helped countless patients reach their aesthetic goals. Every step of the way, you will be fully informed and comfortable. Call us today to learn more about how we can help you reach your goals.