Restore lost volume and boost collagen production for a rejuvenated facial aesthetic with Sculptra in Denver.
Loss of volume in the face can happen at surprisingly young ages, especially if other factors are at play. But with Sculptra, you can restore a youthful facial contour without the need for surgery. This cutting-edge facial volumizer can deliver outstanding cosmetic results for patients of almost any age.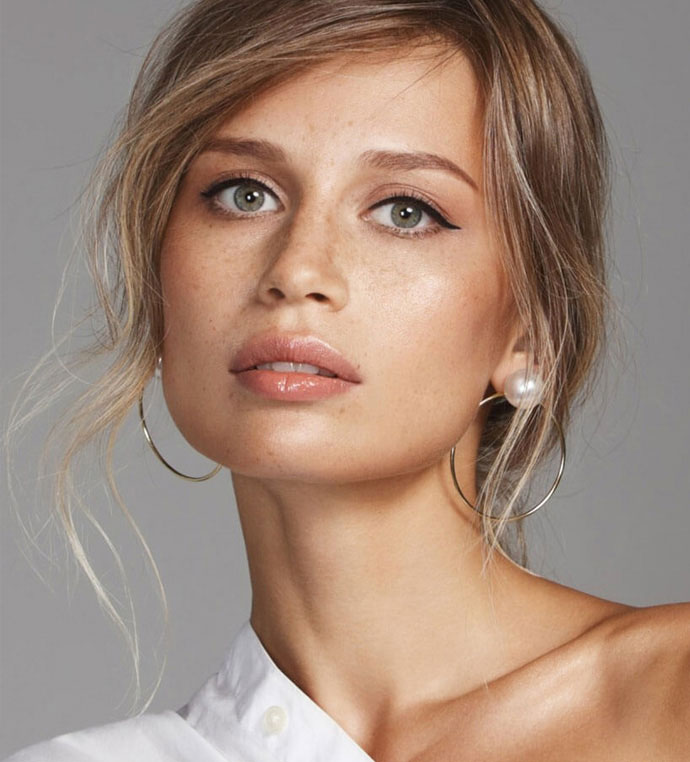 About Sculptra
Dr. McCracken is proud to provide Sculptra, an FDA-approved injectable, to patients in the Denver area. This unique and effective injectable is ideal for patients who have lost facial volume, leading to a more aged, tired, or even hollow set of features. Its special formula not only boosts volume in itself, but it also stimulates your body's natural production of collagen. This allows its results to continue improving over time as your body restores your tissues to a tighter, more youthful smoothness. The result: a balanced facial volume that leaves you looking younger, more alert, and as lively as ever.
Treatment With Sculptra
Patients can begin to see results after their first session of Sculptra treatment. With each additional treatment session, you can get closer to your final goals and a restored facial aesthetic. Most patients will be able to get the results they want after only three separate sessions, each about 4-6 weeks apart. However, this can vary and depends on your unique situation and needs. Treatment sessions are well-tolerated with little to no pain and can take mere minutes, allowing you to get back to your daily life with virtually no interruption.
What to Expect With Sculptra?
Sculptra is non-surgical, so patients do not need to worry about lengthy recovery or downtime. The injections themselves are virtually painless for most patients. But we can provide local numbing to ensure comfort if you would like.
As you progress along with your Sculptra treatment plan, you can expect to see:
Restored volume, improving over time as collagen production improves
A more youthful contour from every direction
A decrease in fine lines and wrinkles around the treated areas
Improved look to previously sunken or hollow-looking areas (especially around the eyes and temples)
Quick recovery with no downtime or interruption to your life
How long do the results last?
Sculptra results continue to improve for a couple of months after your last treatment session. Then, with a healthy routine and proper care, your results can last for about two years. After than, you can try touchup treatments to maintain your results into the future.
Am I a candidate for Sculptra?
The ideal candidate for Sculptra is someone who:
Wants to restore facial volume
Wants impressive results without surgery
Currently is not pregnant or breastfeeding
Currently does not have any facial skin conditions or outbreaks
What Treatments Are Combined With Sculptra?
As a non-surgical treatment, you can utilize other treatments with Sculptra to further enhance your results and boost your aesthetic.
Other dermal fillers and injectables
Botulinum Toxin for increased wrinkle reduction
Microneedling or laser treatments

I am very grateful to Dr. McCraken
After several consultations with local plastic surgeons, I finally got my answers…
---
-B.M
Sculptra is a facial injection that causes your body to increase its natural collagen production.
Sculptra is a safe treatment when performed by a trained specialist and is FDA-approved for treating adults 18 and up.
Where is Sculptra injected?
Sculptra is injected in any facial area that has lost youthful volume. The cheeks, lower face, jawline, and temples are the most popular treatment areas.
What is the recovery like?
Some minor redness, swelling, and sensitivity at the injection sites is normal, but this fades quickly, often within a day or two. It is still important to be careful with the injection sites and avoid irritants until things are fully back to normal.

How Can I Learn More About Sculptra?
You can learn more about the Sculptra treatment by scheduling a personal consultation with Dr. McCracken today. During your initial consultation, Dr. McCracken will discuss your aesthetic concerns and goals with you and examine your facial structure and concerns to see what treatment best suits you. He will then make personalized recommendations focused on helping you effectively achieve your goals. Call the McCracken Eye and Face Institute today at 720-851-6600 to make an appointment with the doctor.