Home . Cosmetic Surgery . Facial Fat Grafting
Facial Fat Grafting (Fat Transfer)
As we age, we will inevitably lose volume in our face. In addition to treating wrinkles, restoring volume is now a necessary treatment to turn back the clock. Dr. Michael McCracken treats volume loss in the lower eyelids and cheeks not only with dermal fillers but also fat grafted from your body. Facial fat grafting is an anti-aging surgical procedure addressing the loss of volume. Because your face is full like a grape when you are young and becomes volume deficient like a raisin as you age, filling your face restores a more youthful appearance.

We lose the most volume around our cheeks, eyes, and jawline. Dr. McCracken's goal is to create a balanced and harmonious rejuvenation of your face. Typically, fat grafting is combined with eyelid (blepharoplasty) surgery, facelift, or a brow lift. These surgeries work to tighten and lift the overlying skin and muscles while fat grafting re-inflates the lost volume. You can only stretch your facial skin to a certain degree. Beyond that, you will appear unnatural and not like yourself. With fat grafting and other facial cosmetic procedures, Dr. McCracken takes a personalized and restorative strategy to address the aging face.
A Youthful, Heart Shaped Face
When we are younger, our faces are shaped more like an upside-down triangle (or heart shape). With time, gravity, and the aging process, we notice in our early 40's that our face now has aright side up triangle (or oval shapen). For some people, you may see that the volume and fat now sit in your nasolabial fold, neck, or jawline. Adding fat back to your face, creates the heart-shaped face you had when you were younger. This procedure also is less invasive when done alone. Dr. McCracken microinjects the fat through a tiny cannula into the correct areas. It takes an artistic eye and a more comprehensive perspective when dealing with volume restoration in your face. Dr. McCracken meticulously injects tiny droplets of fat to achieve a natural result.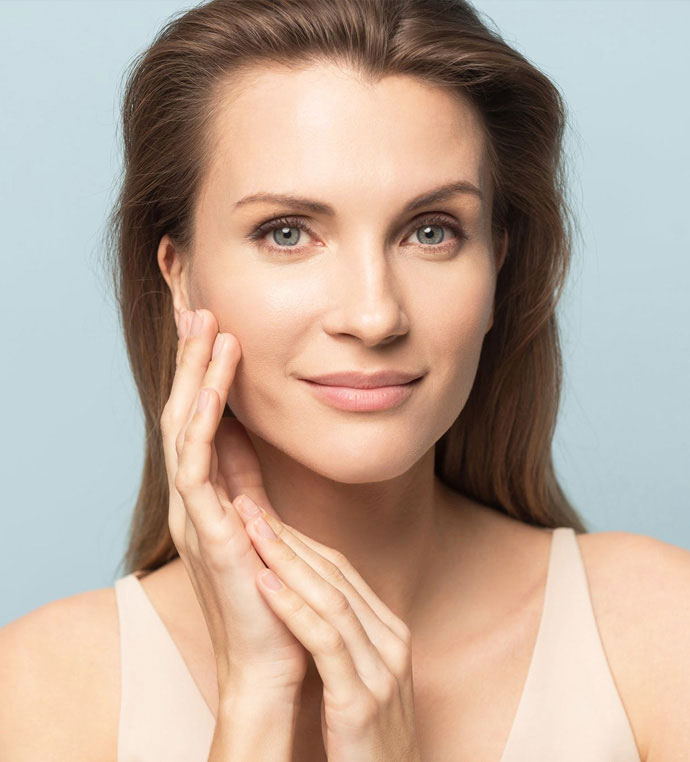 Which areas of my face can I have restored?
Forehead and brow lines
Hollowing around the under eyes (tear troughs)
Lips that are thinning
Marionette lines around your mouth
The folds of your cheek near your mouth
Tear troughs or under eyes
Upper eyelid surgery is often combined with a brow lift or lower eyelid surgery.
How does facial fat grafting work?
During your cosmetic surgery consultation with Dr. McCracken, he will discuss with you the areas of your body where he will harvest fat. The most common areas are for grafting fat are the abdomen, flanks, and thighs. Some people refer to this surgery as facial fat transfer. Dr. McCracken harvests your fat by making a small incision, and typically a suction or liposuction technique is used to remove the fat. Then the fat is prepared, concentrated, and ready for grafting to your face.

I am very grateful to Dr. McCraken
After several consultations with local plastic surgeons, I finally got my answers…
---
-B.M
How is fat transfer different than dermal fillers?
Because Dr. McCracken is using fat harvested from your body, it will last longer and provide a better result than dermal fillers like Voluma or Restylane. Your body is more likely not to metabolize the fat as it would with fillers. Further, higher volumes of fat can be injected since there is a not a fee for each additional syringe. As an experienced plastic surgeon, Dr. McCracken only recommends this procedure if he believes you will achieve natural, long-lasting result.

Are you ready for a consultation?
The first step you can take in restoring lost facial volume is to schedule a facial fat grafting consultation with Dr. McCracken. As a plastic surgeon, he is an expert in facial anatomy and will provide you with a realistic assessment of where you stand in the aging process. You must be a candidate for the fat transfer procedure; otherwise, you will not have the desired result. Therefore, Dr. McCracken will spend as much time as necessary to ensure you have a surgical plan tailored to your individual needs. If you want to discuss restoring facial volume, please contact McCracken Eye and Face Institute at (720) 851-6600. We have offices to serve your facial plastic surgery needs.