Home . Non Surgical . Laser Hair Removal
Laser Hair Removal Denver
The truth is, many of us have unwanted hair on our bodies. All too often, it grows in a way that does not match our aesthetic. But traditional hair removal techniques were often painful, and the results were often not long lasting. Many clinics rely on laser hair removal technology that is dated and minimally effective. That is why Dr. McCracken is proud to provide patients with Forever Bare BBL laser hair removal technology.

At the McCracken Eye and Face Institute, we are committed to providing patients with the latest in cosmetic care. Dr. McCracken believes that every patient deserves be proud of their appearance. That is why his office offers Forever Bare BBL to patients in Denver and surrounding areas. A safe and effective means of removing unwanted hair is finally here.
Laser Hair Removal 101: What Is Forever Bare BBL?
Forever Bare BroadBand Light is the latest method of laser hair removal, and the most effective. Unlike prior methods, Forever Bare does not focus all the light energy on a single area at once. This technique is far too simplistic to achieve the results you deserve.
Instead, this laser hair removal from Sciton uses multiple lower fluence pulses to your target areas. This more sophisticated approach means each pulse occurs at a high rate of repetition. The result: a far more optimal absorption rate by the target hair follicles.
Not only is Forever Bare BBL more effective, but it is: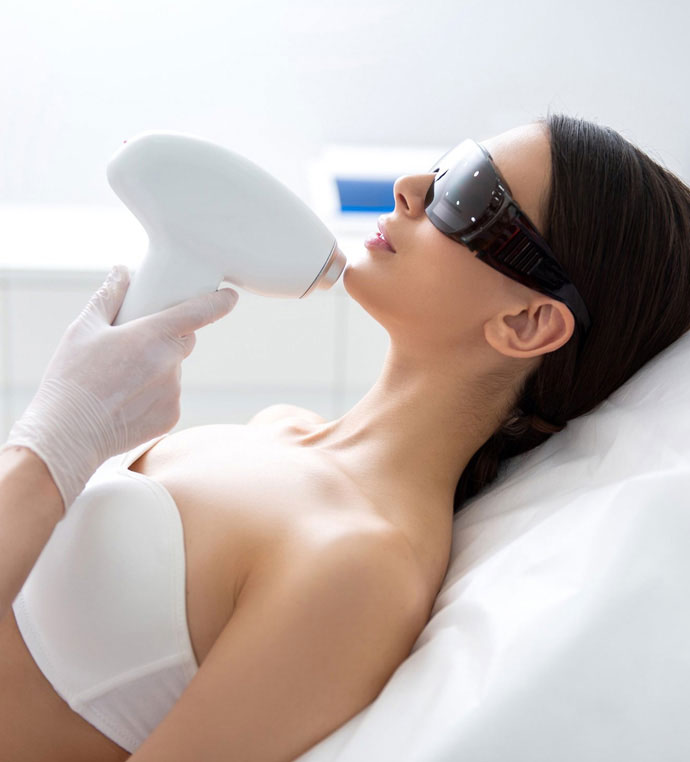 Benefits of Forever Bare BBL
When you compare Forever Bare BBL laser hair removal to older methods, the difference is immediately apparent. Below are just a few of the benefits you will notice with this treatment.
Speed and Convenience
By using a high repetition rate, Forever Bare lets you spend far less time in each treatment session. You can be in and out in less time than a lunch break. Some treatments may take no more than a few minutes.
Effective Without Compromising Safety
This treatment method keeps your skin protected by using multiple controlled bursts instead of single blunt ones. By having this higher level of control, it results in a more gradual rise in the temperature of the follicle. That means the skin around the follicles is kept safe.
Adaptive and Flexible
Older methods were more one-size-fits-all. With Forever Bare BBL, the treatment adapts to match the area treated. You can effectively treat areas that are either large or small with equal effectiveness. And it can treat almost any area on your body. We simply adjust the settings to match your needs at the target area. Also, Forever Bare BBL can treat almost any skin type.

I am very grateful to Dr. McCraken
After several consultations with local plastic surgeons, I finally got my answers…
---
-B.M
Is Laser Hair Removal Right For Me?
If you are tired of ineffective and painful hair removal techniques, then laser hair removal is for you. It works best for patients with darker hair pigmentation. However, it can also provide improvements for all hair colors and types.
During your consultation, we will let you know what you can expect from the treatment and provide a personalized plan to help you reach your goals.
Forever Bare BBL Results
Most patients will notice immediate results. However, it can take some time for your complete results to become apparent. When you come in for a consultation, Dr. McCracken and his staff will work with you to develop a treatment plan that will reach your goals. They will help you decide on how many sessions you will need in order to see the results you want. Before you begin treatment, you will be provided with an outline of what your treatment timeline will look like.
After each session, you will continue to see improvements in your results. As the weeks pass and your body responds to the energy, you will see continued improvement each day.
After each treatment session, you may experience slight redness and swelling. However, this subsides within a couple of days. Most patients are able to return to their daily activities almost immediately. We believe laser hair removal should not interfere with your life but should be as convenient as a trip to the store.

Schedule Your Consultation Today
Take the first step in fighting back against unwanted body hair and schedule your consultation today. If you are tired of ineffective and painful hair removal methods, it is time to try Forever Bare BBL. Call us today to learn more about the various laser and light treatments we offer for patients in Denver and the surrounding areas.
With Forever Bare BBL, you can achieve an appearance that instills you with confidence and pride. And this is what we believe every patient deserves. Say goodbye to unwanted body hair with a modern, safe, and effective laser hair removal treatment.