There are many factors that contribute to a "double chin." Genetics, extra weight and drooping skin over time can all cause excess fat to accumulate below a person's jaw line.
The good news is, a new and revolutionary injectable treatment called Kybella has been approved by the FDA for reduction of fat in the chin area. With Kybella patients can achieve a more slender-looking jaw line and overall facial appearance without undergoing surgery.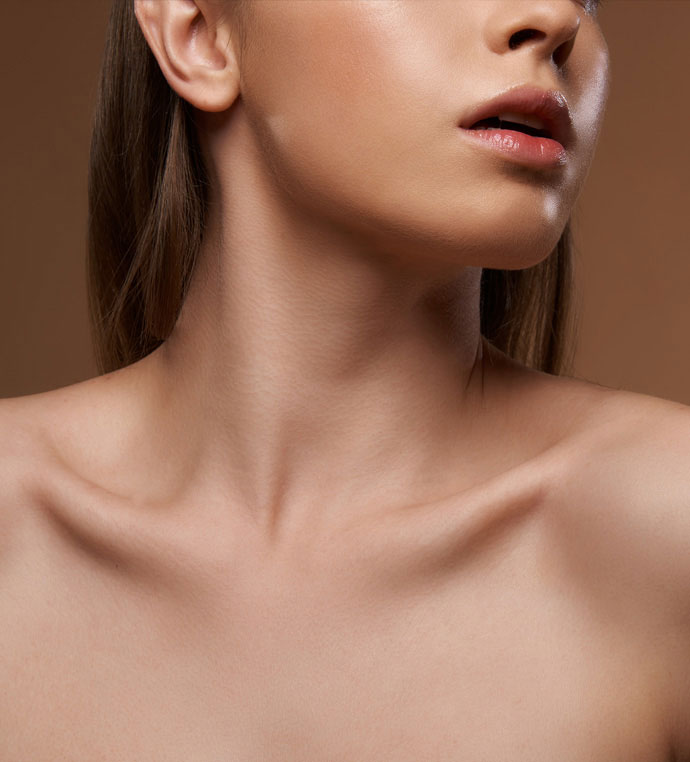 What to Expect from Kybella™
Most patients begin to notice a slight improvement in the appearance of the chin after the first or second session (approximately one month). However, it typically takes about three or four sessions (around the three-month mark) for patients to see the desired results. Depending on the amount of fat under the chin, it may take up to six sessions to see the desired results.
About Kybella
While many injectables add volume to facial areas, Kybella is designed reduce volume by destroying fat cells, in turn eliminating the double chin. Kybella contains  deoxycholic acid, a naturally occurring molecule in the body that aids in the breakdown of fat cells. Upon injection, Kybella breaks down fat cells in the chin area, which are then safely and painlessly absorbed by the body. The results of Kybella treatment are permanent, as the fat cells cannot return.
Treatment with Kybella™
For best results, Dr. McCracken typically recommends two to four sessions of injections administered six to eight weeks apart. He can complete one session in about 15 to 20 minutes.
Dr. McCracken injects the Kybella™ solution into the targeted areas on and around the chin that contain the most fat. Treatment is virtually painless; most patients note a feeling of warmth as the treatment goes to work to dissolve the neck fat.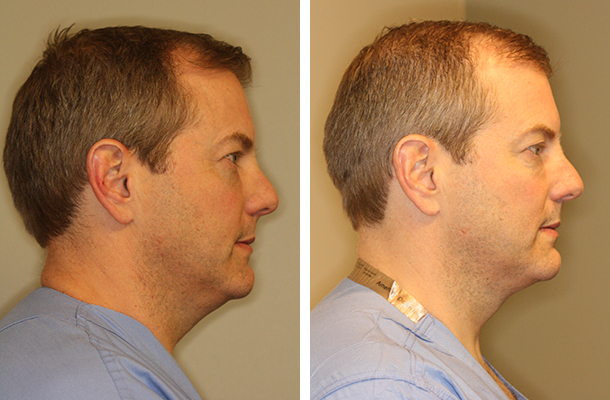 I am very grateful to Dr. McCraken
After several consultations with local plastic surgeons, I finally got my answers…
---
-B.M
Kybella™ is a facial injectable treatment used to eliminate excess fat underneath the chin. The product contains deoxycholic acid to target and destroy fat cells in the chin area permanently.
Kybella™ treatment is safe and has been approved by the FDA for use on adults 18 and over.
Where is Kybella™ injected?
Kybella™ is injected under the chin and surrounding areas with the most fat.
What is the recovery like?
Immediately following treatment, patients may experience slight redness and swelling in the treated area. This is temporary, typically lasting only a few days. Recovery from Kybella™ is relatively quick, with most patients being able to return to work or their normal routines a couple of days after treatment.
How long do the results last?
Kybella™ results are permanent. Any future weight gain will be more evenly distributed throughout the face and neck area.
Am I a candidate for Kybella™?
You may be a suitable candidate for Kybella™ if you:
Have submental fullness (i.e., a "double chin")
Desire a thinner, more well-defined jaw line
Are in overall good health
Have realistic expectations
How Can I Learn More About Kybella™?
You can learn more about the Kybella™ treatment by scheduling a personal consultation with Dr. McCracken today. During your initial consultation, Dr. McCracken will discuss your aesthetic concerns and goals with you and examine your chin area and overall facial anatomy. He will then make recommendations on a treatment plan that will best achieve your goals. Call the McCracken Eye and Face Institute today at 720-851-6600 to make an appointment with the doctor.