Many people develop abnormal growths on the eyelids. In some cases, these lesions could be skin tags, cysts or other benign growths.
In other cases, the abnormal growth may be a malignant skin cancer. Treatment of eyelid tumors may be accomplished in three phases. First, the abnormal growth will be biopsied to determine if it is cancerous. If the tumor is not cancerous, this is usually the only necessary step. If the tumor is cancerous, it will likely extend beyond the excision site. Secondly, the tumor is removed with microscopic examination of the excised tissue to ensure complete removal. Third, the eyelid must be reconstructed where the growth was excised.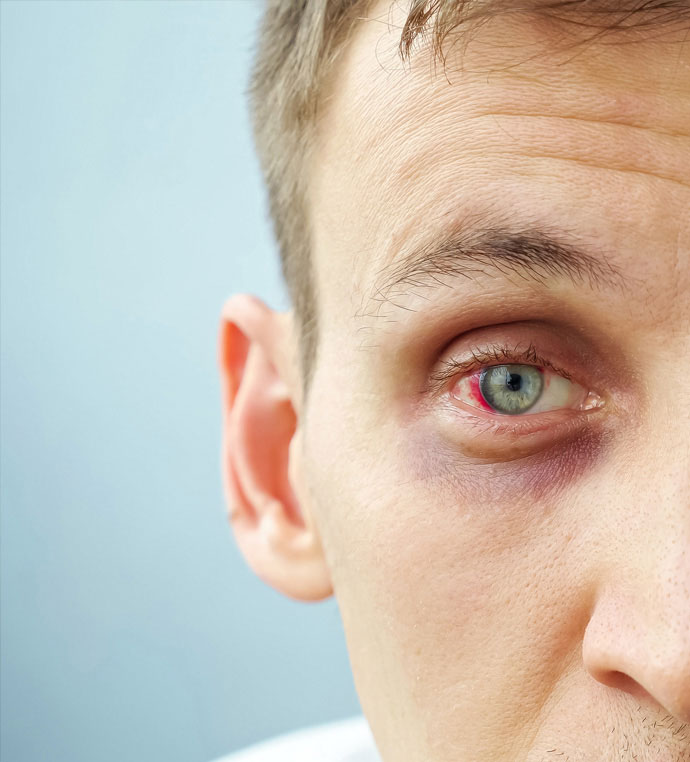 If the tumor is found to be cancerous, Dr. McCracken will usually refer the patient to a Mohs surgeon, a dermatologic surgeon who specializes in removing cancerous growths. Once all the cancer cells are removed, Dr. McCracken will repair the eyelid in a separate procedure, either the same day or within a day or two.
The reconstructive procedure will depend on the size of the deficit left after removal of the tumor. It's important to understand that the size of a tumor is often larger than what appears on the surface of the eyelid. It's impossible to know how far the growth extends below the surface, and how much tissue will need to be removed, until the procedure is actually performed. There are a number of techniques that may be used to repair eyelids, including direct closure, skin grafts and the creation of flaps from surrounding tissue. The method of repair will depend on the nature of the deficit.
Eyelids play a key role in lubricating the eye, protecting the eye from injury, distributing the tear film, and draining tears down into the tear drainage duct.. As an eyelid specialist, Dr. McCracken understands that the most important goal in eyelid repair is to ensure the lid functions properly after surgery. At the same time, Dr. McCracken uses his cosmetic training to achieve the best possible aesthetic result.

I am very grateful to Dr. McCraken
After several consultations with local plastic surgeons, I finally got my answers…
---
-B.M
What To Do If You Notice a Bump on Your Eyelid
Most eyelid bumps are harmless, caused by a bacterial infection, stress or hormonal changes. Mild bumps tend to clear up on their own or with special home care. You can try holding a warm compress on the bump for a few minutes several times a day. But never try to squeeze or pop a bump.
Some bumps should be checked by a doctor and possibly biopsied. See your doctor if any of the following occur:
The bump gradually gets bigger or doesn't improve with home care after a few weeks.
The bump is painful or frequently bleeds.
The bump appears to go away but then returns.
You have a hard time seeing because of the bump.
Your eyes are very watery or emit a lot of discharge.
You experience an unexplained loss of eyelashes.
Are You a Good Candidate for Eyelid Reconstruction after Eyelid Skin Cancer?
You may be a good candidate for eyelid reconstruction if your eyelid skin cancer treatment has affected the appearance or function of your eyelids. Treating eyelid cancer involves completely removing the cancerous tissue while leaving as much of the lid intact as possible. Perhaps removing the skin cancer has left your eyelids turned outward or inward, or it has affected your ability to completely close your eyes. Maybe it has compromised your tear ducts and normal tear function. Maybe you simply look different than you did before cancer and you would like to address it.
In any event, eyelid reconstruction after eyelid skin cancer is important for restoring proper eyelid function with a secondary goal of maintaining a natural looking facial appearance.

Contact Dr. Michael McCracken
Dr. McCracken will meet with you to assess your individual situation and discuss any possible risks that you may experience. Request an appointment online or call the McCracken Eye and Face Institute today at 720-851-6600 to set up an appointment for a consultation with Dr. Michael McCracken.
In addition to performing tumor removal and reconstruction, Dr. McCracken treats a number of eye conditions such as eyebrow ptosis, thyroid eye disease and ectropion. He is also widely regarded as a lower eyelid lift, upper eyelid lift, brow lift, and cheek lift surgeon in Denver.