Sun exposure, lifestyle habits, and aging can cause your skin to lose its youthful tone and smooth texture.
Laser skin resurfacing is a precise tool used to remove the outer, damaged skin layers. As it rejuvenates your skin, it treats wrinkles and uneven pigmentation. It is a brilliant way to reduce signs of aging. However, traditional laser resurfacing is often associated with long downtimes. Now, with the Halo hybrid fractional laser, you can enjoy the results of laser resurfacing, but with minimal downtime. As you remove signs of facial aging, you will see a more vibrant and lively face looking back in the mirror, a face that matches how you feel inside.
At the McCracken Eye and Face Institute, we believe that there is a way to age gracefully. Modern medicine allows you to retain a youthful appearance that matches your inner self. No incisions. No lengthy downtime.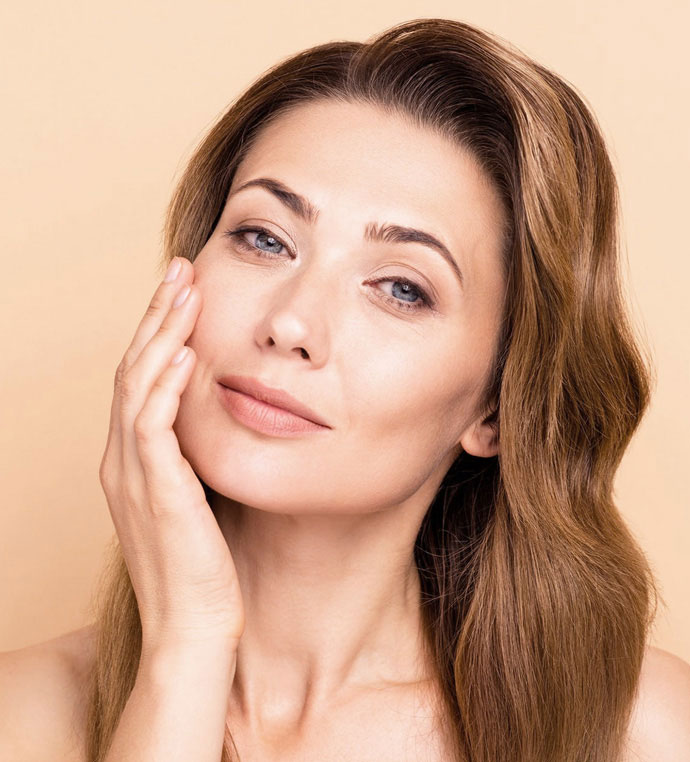 What Is Halo Laser Skin Resurfacing?
Halo hybrid fractional laser technology can achieve results with more precision than chemical peels or older laser technologies. This means the Halo laser uses both ablative and non-ablative wavelengths to achieve optimal results.
The traditional CO2 laser gives excellent results, but it often has a long downtime. Now, this new technology offers less chance of scarring or hypopigmentation and quicker patient recovery times.
Dr. McCracken uses the Halo hybrid fractional laser to increase patient safety and decrease recovery time. It works by removing an outer damaged layer of skin and encouraging healthier skin to replace it. It can treat damage from a variety of causes, including:
Sun exposure
Acne
Minor Scarring
The Halo laser energy encourages your body to develop new healthier skin from the inside out. It promotes the production of collagen. This is a protein vital to giving your skin a youthful structure and firmness.

I am very grateful to Dr. McCraken
After several consultations with local plastic surgeons, I finally got my answers…
---
-B.M
About the Halo Laser Skin Resurfacing Procedure
As an oculoplastic surgeon, Dr. McCracken and his team can use Halo laser resurfacing to rejuvenate your facial area. Laser resurfacing in Denver can take several forms.
Halo can treat the face.
It can treat the face and neck
It can treat the face, neck, and chest
During your consultation, Dr. McCracken and his staff will work with you to decide which type is best for you. Each patient has their unique goals, so we match each plan to meet your needs.
The length of the procedure and recovery times vary depending on your treatment. Superficial treatments will be shorter, while deeper, fuller resurfacing procedure may take longer.
After Your Treatment: Recovery and Downtime
Patients will experience peeling of the treated skin for several days after the treatment. This is entirely normal. It is your body releasing old, damaged skin to replace it with fresh skin. There can also be redness that can last a few days for more superficial treatments. For deeper treatments, it may linger for up to a month. Makeup can be used to disguise redness during this time.
Discomfort is usually minimal, but it can be managed easily with medication. After your treatment, you will typically be able to return to your daily routine. However, Dr. McCracken will provide you with instructions to ensure your healing goes smoothly.
We are with you every step of the way. If you have any questions during this time, call us and we will gladly answer them.
FAQs About Halo Laser Skin Resurfacing
What is Halo laser skin resurfacing?
Laser resurfacing uses laser energy to remove the surface layer of the skin and promote collagen production to tighten the skin.
What conditions does laser skin resurfacing treat?
Laser skin resurfacing is used to tighten the skin, reduce fine wrinkles, treat acne scarring, reduce aging, treat scars, and lighten age spots. It delivers younger, fresher looking skin with a vibrant feel.
What is fractional laser skin resurfacing?
Fractional resurfacing leaves segments of normal tissue in between the treated areas. This allows for faster healing and more noticeable results.
Is Halo laser skin resurfacing painful?
Halo laser skin resurfacing is usually well tolerated after the application of numbing cream. Afterward, the skin may feel like it has a sunburn for several days. Our goal is patient comfort every step of the way.
What is recovery like after Halo laser skin resurfacing?
Expect the skin to be slightly red and swollen for the first week. There may be some scabbing for the first few days. There is often some drainage during this period. For the first month, there may be a pink tone to the skin. This can be covered with makeup.
Benefits of Halo Laser
Halo laser resurfacing can help restore the look of young, refreshed skin by removing the damaged outer layers of skin on the face. Skin resurfacing can also:
Smooth lines and wrinkles
Reduce the appearance of age spots and blemishes
Treat uneven and blotchy skin
Promote healthy and radiant looking skin
Reduce acne scars
Unlike surgical procedures, laser skin resurfacing takes little time out of your schedule. You can see transformative results without the need to undergo extensive surgery. However, some patients may benefit more from a surgical procedure. During your consultation, Dr. McCracken will help you decide which options are best for meeting your cosmetic goals.
How can I learn more about Halo laser skin resurfacing?
Facial plastic surgeon Dr. McCracken will meet with you to assess your individual situation and discuss laser skin resurfacing. Request an appointment online or call the McCracken Eye and Face Institute today to schedule an appointment for a consultation with Dr. Michael McCracken.
Why Use the Halo Hybrid Fractional Laser?
The Halo laser provides more consistent results and with less downtime than traditional lasers. You may require as few as 1-2 treatments before you see significant results. There is virtually no downtime required, yet the results are incredible.