Beautifully refined facial aesthetics in just one treatment. Dr. Michael McCracken is now offering Denver the most significant innovation in facial aesthetics. It is safe, gentle, and effective. Are you looking for remarkable results, but not ready for the commitment of a facelift? EmbraceRF is the most advanced facial contouring and refinement procedure without the need for traditional plastic surgery.
At the McCracken Eye and Face Institute, we provide patients with the latest in cosmetic procedures. Call today to learn more about the best facial plastic surgery in Denver.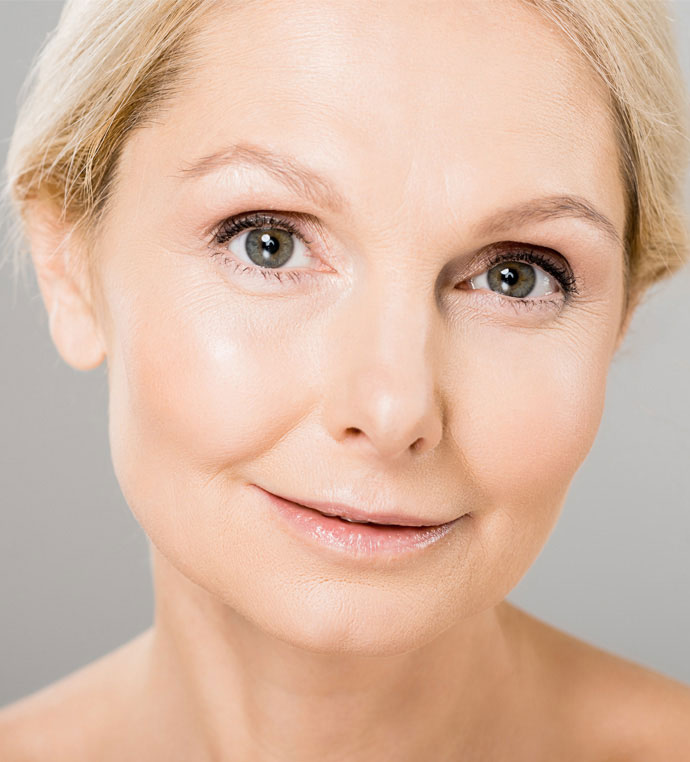 What is EmbraceRF?
Aging causes our bodies to slow down their production of collagen. Without this vital protein, our skin begins to become loose. However, there is a way to encourage your body to begin producing it once again. That way is EmbraceRF.
EmbraceRF is a new procedure that combines two powerful and clinically-proven technologies to provide a dramatic improvement to skin laxity. It uses a subdermal radiofrequency unit to jumpstart the deeper layers of your skin. It involves minimally invasive radio-frequency energy, strategically applied in areas you would like to improve.
Not only does it treat fat, but it also contracts the skin around the treatment area. The result is a contoured and youthful-looking appearance with improved skin texture. It can target areas all over the body, but the most popular areas are:
Due to its flexible nature, it can be combined with other treatments such as liposuction. This is especially beneficial if there is a significant amount of fat in the treatment area.
Beautiful Facial Contouring and Refinement
With EmbraceRF, you move toward a more youthful appearance. You can achieve an aesthetic that matches how you feel inside, restoring self-confidence and pride in your looks.

I am very grateful to Dr. McCraken
After several consultations with local plastic surgeons, I finally got my answers…
---
-B.M
What Areas Can Be Treated?
Any area on the face and neck with saggy skin can be treated. If you have deep lines or loose skin, EmbraceRF can help. Most patients find the greatest improvements by treating areas around the face.
During your consultation, you can work with Dr. McCracken to decide which areas will benefit the most from treatment.
Who is EmbraceRF Ideal For?
A facelift or other surgery can yield amazing results. However, they also come with scarring and lengthy downtime. Also, the results are permanent, which requires dedicated commitment ahead of time. For these reasons, more and more patients are turning to non-surgical rejuvenation. If this sounds like you, then EmbraceRF could be the treatment you are looking for.
EmbraceRF provides surgical-like results. However, it is minimally invasive. That means no incisions and no scarring. The results are long-lasting, with a dramatically shorter downtime compared to surgery.
While patients tend to wait until later years for surgery, anyone in their early 30's and onward could find benefits from this treatment.
During your consultation, Dr. McCracken will help you decide if this treatment is right for you. According to your aesthetic goals, he will put together a personalized treatment plan. Some patients with more extreme sagging or wrinkles might benefit more from traditional surgical methods.
When Will I See Results?
Right after your treatment, you will look and feel better. Though results are immediately visible, it is important to keep in mind that it takes some time for final results to appear. As you rebuild your supply of collagen over the coming weeks, you will continue to see improves.
Patients typically report significant results within about six weeks. And they continue to improve in the months to come.
After-Treatment Care
EmbraceRF is a minimally invasive procedure performed with AccuTite, FaceTite, or Morpheus8 technology. So you will not need to worry about a lengthy recovery. It is done under local anesthesia or light sedation, putting much less stress on your body than full sedation.
After your treatment, you can go home the same day. Depending on the extent of your procedure, you can resume regular activities within a week or so. Dr. McCracken will provide you with full information before and after your procedure, so you are never in the dark.
What Do Patients Have to Say?
"I've been looking at procedures for my lower face and neck, which seem to have 'fallen down.' Options were either too extreme or did not produce significant results. I was tired of going in for short term solutions, Embrace RF offered me a natural-looking lift, to both my face and spirit. I am so grateful!" – Wendy, Patient

Schedule a Consultation
A younger, rejuvenated appearance is within your reach. Schedule a consultation today to get started on achieving your aesthetic goals. We know you still feel lively inside, so it is time to match that to your outer appearance. Call today to learn more about our cosmetic treatment options. We offer a range of surgical and non-surgical rejuvenation options to help you achieve the look you deserve.