Home . Non Surgical . Skin Rejuvenation / Skin Resurfacing
Skin Rejuvenation / Skin Resurfacing
It's no secret that sun exposure and aging can wrinkle your face over time, causing changes in tone and texture. Dr. McCracken uses advanced techniques in skin rejuvenation and skin resurfacing to give your face a noticeable, youthful radiance.

Through laser resurfacing, facial micro-needling, and the SkinPenⓇ micro-needling technique, you can improve the appearance of your skin and enjoy long-lasting youthful effects to boost your confidence and restore your inner sense of self.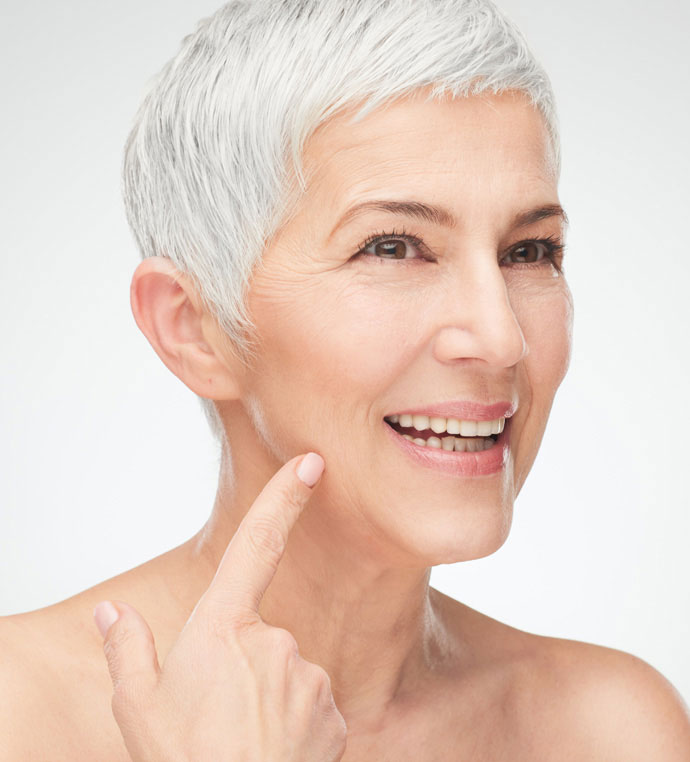 How Does Laser Skin Resurfacing Work?
Since aging and lifestyle habits can change the skin's texture and appearance over time, it is important to invest in non-invasive procedures to bring the skin back to its former state of smoothness. Using precision laser tools, skin resurfacing removes the damaged outer layers of skin to get rid of blemishes, scars, and pigmentation.
Laser technology allows Dr. McCracken a far more precise way to remove damaged skin than with more traditional chemical peels or invasive treatments. While CO2 laser resurfacing is still in practice by many institutions, Dr. McCracken uses only the newest laser technology with an Erbium laser to reach levels of pinpoint accuracy.
Laser skin resurfacing targets the skin around the eyes, mouth, and nose of the patient to reduce unsavory effects such as:
Wrinkles and deep lines
Blemishes, dark spots, and aging spots
Rough patches or blotches on the skin
Discoloration or pigmentation on the face
This procedure offers a thorough and virtually painless treatment to restore your skin back to a healthy, radiant glow, without relying on invasive technologies.
Is There a Lengthy Recovery?
This skin rejuvenation process is quick, designed with outpatients' busy schedules in mind. In fact, it's possible to go back to work the same day, with an understanding that your skin may feel sensitive or swollen for a little bit of time.

I am very grateful to Dr. McCraken
After several consultations with local plastic surgeons, I finally got my answers…
---
-B.M
The Non-Surgical SkinPenⓇ Procedure
Many patients are looking for specific areas of the skin to be rejuvenated, rather than focusing on the face as a whole. Fortunately, we offer a treatment that targets the smallest areas while providing the maximum results.
The SkinPenⓇ micro-needling treatment is a tested and approved method for improving the appearance of your skin. While this procedure does require the use of sharp needles to make holes in your skin, these micro-injuries are nothing more than a tingle.
What to Expect from SkinPen
SkinPenⓇ does not require any injections or chemicals as part of the treatment. By creating small punctures with tiny needles, the skin is encouraged to increase the production of collagen to heal these areas of the skin.
Heightened collagen production will heal over the damaged layers of your skin with a new layer of smooth, rejuvenated skin. Recovery time is quick, with almost no downtime required. You may feel some sensitivity, and a topical ointment will be prescribed so you can easily manage your discomfort.
Enjoy these benefits with SkinPen:
Peace of mind with a safe and FDA-approved procedure that improves the appearance of your skin
Can rid your face of harmful acne scars and other permanent blemishes
No injections necessary
Many patients only need 3 treatments, 1 month apart, for the best results
More About Micro-Needling Skin Rejuvenation
While SkinPenⓇ is an advanced form of the procedure, micro-needling exists in other treatment methods as well. Some facilities refer to micro-needling as the process of giving a "blood facial", which gets its name due to the small holes made by needles on certain areas of your skin. They are near-microscopic punctures that jumpstart your skin's regrowth process.
Micro-needling is great for patients of all skin types, and for those who may not necessarily need an invasive surgical procedure to get rid of blemishes on the skin.
Those dealing with acne scars or fine lines on the face can work directly with Dr. McCracken over a series of several sessions to ensure your face is rejuvenated and blemish-free.
Skin rejuvenation isn't just for your face. Dr. McCracken uses micro-needling in all areas of the body, including:
Neck
Shoulders
Back
Abdomen
Legs
Arms
Hands
Who Are Good Candidates for Skin Rejuvenation and Skin Resurfacing Procedures?
A personal assessment is needed to determine what method of restoration would work best for you. Due to your circumstances, habits, lifestyle, and age, there may be one procedure that is highly recommended over another to best fit your needs.
Good candidates are typically:
In good general health
Non-smoking
Dealing with acne scarring, blemishes, discoloration, wrinkling, or texturization on the skin due to exposure over time
Most patients have no problem meeting the basic requirements for candidacy, but if you are concerned about whether you'd be a good fit for facial rejuvenation with Dr. McCracken, schedule your appointment for a personal consultation.

Why Choose Dr. McCracken for Skin Rejuvenation in Denver?
Dr. Michael McCracken is a board-certified cosmetic surgeon with a specialty in non-invasive eye and face procedures. He has been practicing his specialty in this field for nearly 2 decades, earning qualifications to treat conditions and diseases on the eyes and face. Dr. McCracken is passionate about finding new and improved ways to bring old skin back to life through painless technology and treatment techniques.
To find out if skin rejuvenation and laser skin resurfacing in Denver is exactly the non-surgical beauty solution you've been seeking, get in touch with Dr. McCracken today. By investing in the technology of the future, we can help invest in yours.