Home . Non Surgical . Wrinkle Reduction
Wrinkle Reduction – Non-Surgical Wrinkle Treatment Denver
We've grown used to the certainties in life.
Death. Taxes. Wrinkles.

With the help of Dr. McCracken and a few new cutting-edge cosmetic tools, we may be able to remove the last item on that list. Non-surgical wrinkle reduction in Denver is gaining popularity and here to stay.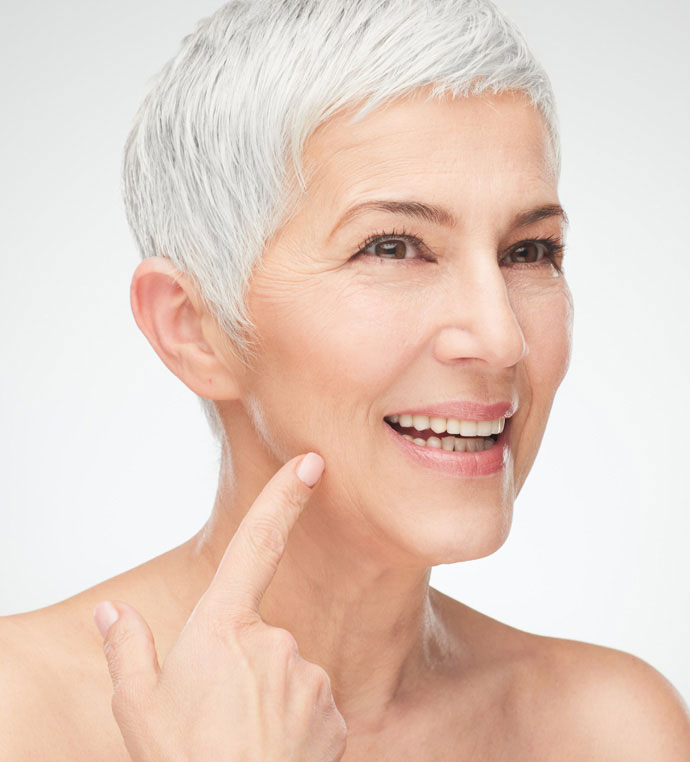 Why Wrinkles?
Our skin is the perpetual shield that protects our bodies from the surrounding environment. No matter how well you take care of your skin, fine lines and creases will find a way to show themselves. Facial wrinkles are most commonly caused by:
Sun Exposure – UV light, in particular, isthe main culprit of accelerating the aging process. Over time, it weakens our skin's collagen and elastin fibers.
Facial Expressions – We make hundreds of facial expressions every day. As we get older the grooves created from these expressions do not bounce back as resiliently as they once did. Our skin loses flexibility and these temporary grooves become permanent.
Age – Some things we just cannot help. With age comes a decreased production of natural oils and proteins. Combined with a loss of volume, our skin sadly cannot keep up.
Wrinkling is completely natural. Wrinkling also demands a natural, non-surgical solution. Dr. McCracken is proud to introduce minimally invasive wrinkle treatment in Denver.
FaceTite: No Nonsense, Non-Surgical Wrinkle Reduction
For many, the prospect of going under the knife is not very enticing and for good reason. Invasive surgery techniques, lengthy recovery times, and facial scarringcan often become overwhelming.
FaceTite by InMode offers a gentle and advanced skin refinement procedure that works wonders for patients looking to remedy fine facial lines. By taking advantage of radiofrequency waves, FaceTite dissolves the fatty tissue you don't want and stimulates the healthy cell production under the skin you do want.

I am very grateful to Dr. McCraken
After several consultations with local plastic surgeons, I finally got my answers…
---
-B.M
Is FaceTite Really Comparable to a Surgical Facelift?
For those looking for the ideal compromise between surgical results and the ease of a single office visit, this wrinkle reduction treatment is for you. FaceTitedelivers noticeable results comparable to a facelift, without any of the scarring. Patients enjoy dramatic improvements in skin laxity and tightness around the face and neck. This wrinkle treatment is usually performed under local anesthesia or sometimes light sedation.
FaceTite can be used to address saggy skin around the chin or jowlsand be combined with other cosmetic facial procedures for those seeking a complete facial rejuvenation.
FaceTite by InMode offers patients the following benefits:
No traumatic facial incisions
Little to no downtime post-procedure
Drastically improved facial contouring
Dramatically improved wrinkles and fine lines
Immediate results
What is the Aftercare Like?
Patients go home immediately following their procedure where they are often advised to avoid strenuous activity for one week. Other than that, feel free to go about your daily routine. Occasionally, a compression garment will be prescribed to aid the healing process.
When Can I See my Beautiful Results?
Wrinkle reduction results are instant! As the collagen production in your face improves, so will your features. Patients often notice improvements continuing from 6 weeks to a full year after treatment.
AccuTite by InMode: The Unreachable is Now Reachable
With AccuTite, Dr. McCracken leverages FaceTite's signature safety and skin tightening technology, while bringing a new wrinkle treatment that specifically targets hard-to-reach areas of the body and face.
AccuTite commonly addresses the following areas:
Brows
Nasolabial fold
Lower face
Upper arms
Abdomen etching
Inner thighs
AccuTite uses the smallest contraction device in all of cosmetic medicine to achieve pinpoint accuracy and incredibly natural-looking results.
Is Wrinkle Reduction Treatment Safe?
Both FaceTite and AccuTite are part of the radiofrequency Assisted Lipolysis family of technology. With over 22 peer-reviewed clinical publications and numerous safeguards built natively into the devices, you can rest assured, your wrinkle treatment is both safe and comfortable.
Is Wrinkle Reduction Right for Me?
The best candidates for wrinkle reduction in Denver include:
Those in steady general health
Patients looking for a non-surgical solution to wrinkles and sagging skin
Those who do not have the time to undergo invasive surgery and recovery
Patients looking for instant results with no scars
If you have more in-depth questions about wrinkle reduction in Denver, get in touch with Dr. McCracken for an intimate one on one consultation. Every patient is different and every patient deserves to be thoroughly heard.
Beyond the Fine Lines
Dr. McCracken knows better than anyone, the difference these state-of-the-art procedures can make. It often goes beyond the physical. Tight, youthful skin radiates both inward and out. On the inside patients find a self-confidence and lively attitude previously thought to have disappeared with age. On the outside, they light up the room with a face seemingly 10 years younger.
The non-surgical nature of wrinkle reduction in Denver with Dr. McCracken opens up this opportunity to those who are wary of invasive surgery or cosmetic facial treatments in general.
At the end of the day, Dr. McCracken cares about three things.
Your safety, your flawless results, and the way you feel about yourself.