A mid-face lift, or "cheek lift" repositions the fat pads above the cheekbones so they no longer sag.
As you age, your face will undergo significant change. The fat pads within the cheek can slip from their natural position over the cheekbones, and the tissue of the cheek can begin to sag. This loss of cheek volume can cause a hollow appearance under the eyes or a tear trough around the lower lid. Denver facial plastic surgeon Dr. Michael McCracken can fill in the hollowness with a mid-facelift and restore a youthful contour.
At the McCracken Eye and Face Institute, we understand the impact your appearance can have on your life. We believe everyone deserves to feel confident in how they look. With a cheek lift, we can help you restore a youthful look to your face, inspiring self-confidence.
About Mid-Facelift Surgery (Cheek Lift)
During a mid-facelift, Dr. McCracken makes ultra-small incisions. By placing them strategically, they are hidden in various places. These include:
Corner of the eye ("crow's feet")
Inside of the lower eyelid
Upper eyelid crease Through these incisions,
Dr. McCracken lifts the fat pads to a more natural position. The result is a more youthful and alert appearance.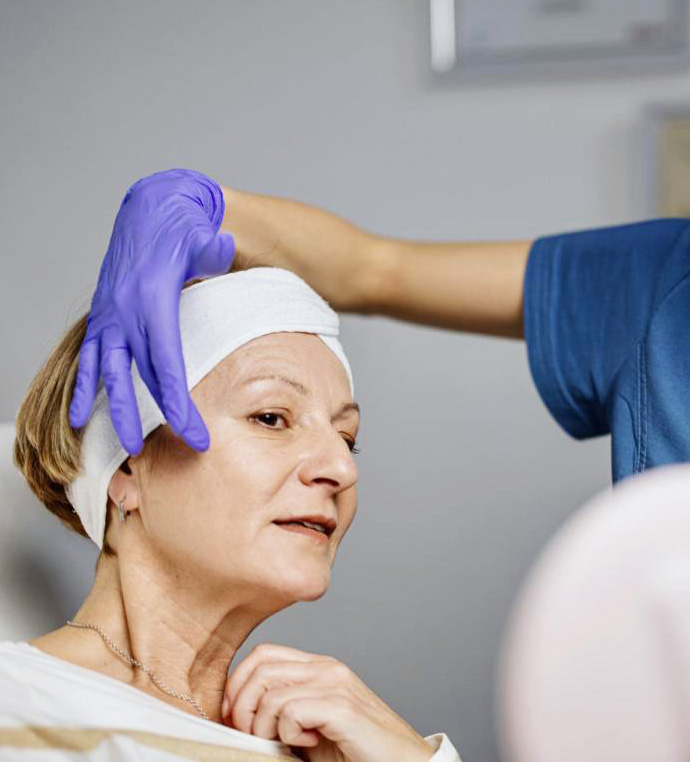 About the Cheek Lift Procedure
A cheek lift procedure takes about an hour and can be done with local anesthesia in an office setting. The total time can vary if you want to combine it with other procedures. Discomfort is minimal, and most patients can return to normal activities within a week. Stitches are dissolvable and do not need removal. Most patients can resume wearing makeup and contacts within one week following their surgery.
One of the advantages of a cheek lift is how it can be combined with other cosmetic procedures. You can combine a mid-facelift with an upper eyelift or lower eyelid surgery and laser resurfacing to tighten the skin. During your consultation, Dr. McCracken will work with you to develop a treatment plan. Each step of this plan is tailored to your unique goals and needs.
What Can a Mid-Facelift Do?
A mid-facelift procedure can correct the appearance of sagging, hollowed cheeks. The result: the restoration of a youthful, refreshed appearance to your face. A mid-facelift can also help:
Restore the cheeks to a more youthful fullness
Minimize hollowness or under the lower eyelids
Soften folds between the nose and corners of the mouth
Improve the appearance of cheek "festoons"
For patients who are not ready to commit to surgery, we offer non-surgical treatments as well. These treatments provide temporary enhancements but require almost no downtime. However, a cheek lift provides the most powerful results.

I am very grateful to Dr. McCraken
After several consultations with local plastic surgeons, I finally got my answers…
---
-B.M
Mid-Facelift Surgery Recovery
Before your mid-facelift surgery, Dr. McCracken will provide you with detailed instructions about what to do following your mid-facelift surgery. These instructions will include:
How to care for your incision sites
How to avoid potential infection
What medications can help manage post-operative discomfort
An essential part of recovery is giving yourself time to heal. The more rest you take, the better your final results will be. If you have any questions during your recovery, Dr. McCracken is available to keep you informed.
Once you see your final results, they will be with you for years. Every glance in a mirror will improve your quality of life as you build confidence.

How Can I Learn More About Mid-Facelift Surgery?
Take the first step toward a renewed appearance today. Contact us today to schedule a consultation. Dr. McCracken will meet with you to assess your individual situation and discuss mid-facelift surgery in Colorado. Request an appointment online or call the McCracken Eye and Face Institute today. We look forward to helping you achieve your aesthetic goals in a comfortable environment