Subtle and refined beauty is no longer unattainable. Today, regardless of age, the ability to reinvigorate your skin and give new life to facial curves should be painless and easy. The skin of your face and neck are the most vulnerable to age due to the loss of elasticity that occurs with time. Prior to the introduction of non-surgical neck contouring, adjusting these sensitive portions of skin to reduce wrinkling and sagging required invasive surgery.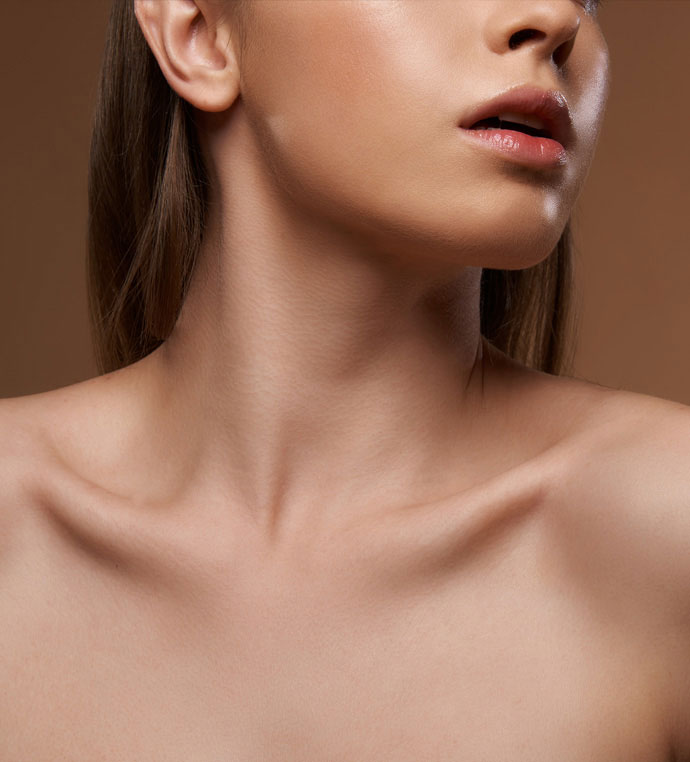 Why Avoid Surgery?
Surgical approach to facial rejuvenation takes a full month for the majority of the bruising and swelling to fade. Even then, there can be minor swelling for up to a year after surgery. Fortunately, new technologies make these procedures a thing of the past for many patients.
Non-Surgical Neck Contouring with EmbraceRF
Dr. McCracken specializes in the use of EmbraceRF non-surgical neck contouring to tighten the skin and contour remaining adipose tissue. The procedure is FDA cleared and recognized by the American Board of Cosmetic Surgery for its efficacy. EmbraceRF uses radio frequencies to trigger collagen production within your facial tissue.
Notable Facts About Collagen
Collagen is a protein that serves several important functions in the body. In your skin, it acts as a sort of natural filler.
Unfortunately, as the body ages, it ceases to produce the same volume of collagen.
As we age, decreased collagen production in the skin causes it to fold down into the weakened areas. Therefore,facial skin begins to wrinkle and the skin of the neck sags as we age.
Fortunately, unlike other nonsurgical neck lifts, EmbraceRF allows for results to be achieved in a single procedure. These results are sometimes apparent immediately, but will take six to twelve months to fully mature once collagen production has been stimulated.

I am very grateful to Dr. McCraken
After several consultations with local plastic surgeons, I finally got my answers…
---
-B.M
Different Approaches to Non-Surgical Neck Contouring
Although all aspects of the EmbraceRF system use similar forms of the core radio frequency technology, Dr. McCracken will choose a personalized approach based on your individual needs.
FaceTite
Dr. McCracken utilizes FaceTite for more dramatic results. FaceTite technology uses radiofrequency energy to break down internal fat and stimulate new collagen. FaceTite liquefies fatwhile pulling the skin tighter by tightening the layers of collagen.
As with all EmbraceRF procedures, patients will see continued improvement over a six to twelve-month period.
AccuTite
AccuTite is the smallest of the associated devices. InMode created it as an alternative to FaceTite for smaller areas that require exact precision. As with FaceTite, AccuTite uses a combination of carefully applied heat with radiofrequency energy to give patients detailed results in just twenty minutes using a local anesthetic.At the neck, AccuTite is most suitable for minimal adjustments.
How Does the Procedure Work?
EmbraceRF is minimally invasive, and the average person is back to normal activity levels in just a few days. Dr. McCracken performs the procedure in-office uses local anesthesia to guarantee optimal comfort. There is no reason your non-surgical neck lift should bring you unnecessary pain.
Once the local anesthetic has been injected into the subcutaneous layer of the skin, Dr. McCracken will make an imperceptible incision.
A probed portion of the AccuTite or FaceTite tool is inserted under the skin to heat the layers of fat. An electrode is passed over the skin opposite the metal probe, allowing the radiofrequency energy to pass back and forth between them.
Non-Surgical Neck Contouring Recovery
Unlike a full neck or facelift, most patients are back to normal activity levels within a day or two of non-surgical neck contouring.However,Dr. McCracken often advisesavoiding any strenuous activity for one week. You can expect minor bruising, which can last up to ten days.
At this time, it is vital to follow all post-op instructions to ensure optimal results. In some cases, you will be given a compression garment. This should be worn 24 hours a day for one to two days after the procedure, depending on your condition.
In addition to a few days of bruising, you will likely experience numbness at the site of the procedure for several weeks. This is a completely normal and temporary side effect.